Oh blimey you weren't supposed to be here yet!
Work in bloomin' progress
This page will be a bit of a splurge about me - who I am, what I am, why I am - et cetera. Read this in conjunction with my music page and my work page to get th' bigger picture. Erk alors!
I am currently in the process of rebuilding my Web site because it's really out of date and a bit grim.
So until I do that the best thing I can suggest is that you check out my old Web site - this was done a long time ago and is very out of date, but will tell you a bit about me and my life up until about 2000.
For details about my work see this page or check out my work web site.
Meantime - what's with all the witches?
Ah. OK - are you sitting comfortably? Then I'll begin.
Many, many years ago, when I was a young lad of about twelve or thirteen, there was a pop group called Fairport Convention. And, although I didn't know it at the time, they lived in a house less than half a mile from me in Muswell Hill. They made a number of great albums including one, 'What We Did On Our Holidays', which for many years was my 'best album ever made'.
Fairport were managed by a man called Joe Boyd, who ran a company called Witchseason. In addition to Fairport, Witchseason also managed (and/or Joe Boyd Produced) some of my other favourite artists - The Incredible String Band, Nick Drake, John Martyn, Nico, Sandy Denny, Fotheringay, Richard Thompson, Shirley Collins, Dr Strangely Strange, etc. (not to mention - please - the frankly dire and unbearably twee Vashti Bunyan), and had also been in charge of Pink Floyd before Peter Jenner came along.
Witchseason, and Island Records, became a symbol for all that was wonderful about music - and their logo was a stylised silhouette of a witch on a broomstick. Very similar to the one on the background of these pages.
Fast forward several years and I'm about to start my first contracting role, which requires me to have my own limited company. I've no idea what to call it but on impulse I check to see whether 'Witcheason' still exists. It doesn't. So I write to Joe Boyd to ask his position to use the name (not that I need it, in practice)... and he - reluctantly - agrees.
And so I became (professionally) Witchseason. And I've extended my usage of the name throughout my Web presences - I was the original @witchseason on Twitter but somehow I lost the login and so now I'm @W1tchseason - which is the next best thing. And I took the original Witchseason logo and tweaked it so that, instead of riding on a broomstick, my witch is sitting at a laptop. And I put the machine heads of a Fender Jazz Bass on the end of the witch's 'tail' (or cloak).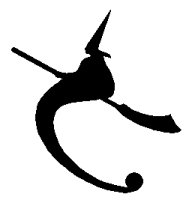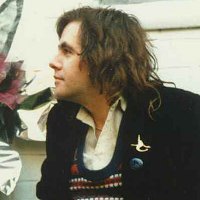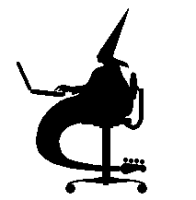 Joe Boyd's original logo... ...Me in 1985 with my Witchseason brooch... ...My modified logo
So that's what's with all the witches.
You could also:
Choir Wars
When you're bored with my site(s), why not visit the Tottenham Community Choir home page (I sing with them every Tuesday evening). If you want to find out a bit about why there are two choirs in Tottenham ('Tottenham Community Choir' and 'New Tottenham Singers'), rehearsing at the same time on Tuesday evenings and within 200 yards of each other, read my choir wars blog. If you want to join one but don't know which to choose, have a look at the respective web sites (and no, I'm not going to put up a link to theirs!).