David Crosby - If I Could Only Remember My Name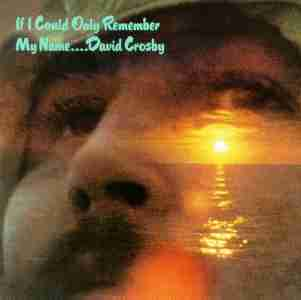 Me and Loulou (Lawrence Loumansky - see Only The Lonely) were working in Petticoat Lane on Sunday mornings for the princely sum of £2 each, helping out a guy whose name I can't remember but later became the proprietor of that famous record shop on Rupert Street. We were both big fans of CSNY and I had Steve Stills and Neil Young's solo albums (Young had just released Goldrush). Loulou was a Graham Nash fan but I thought he stank (Nash, not Loulou) and neither of us quite knew what to make of Crosby. We didn't know he'd been in the Byrds and I think he was the last of the 4 to release a solo album.
Anyway one Sunday this album appeared in the "new releases" box (BTW the original album didn't have any text on the sleeve - there was a paper band wrapped around it that said what it was. I wish I still had mine...) and I decided to buy it (almost without exception I spent my wages buying albums from our boss - John I think his name was - at extra cheap prices).
ISTR that the music press at the time slated this album as self-indulgent doodling, but they couldn't have been more wrong. IICORMN (as it came to be known) is the best example of PERRO (Planet Earth Rock'nRoll Orchestra) that we have to date, although Stephen Barncard (with whom I had a brief email conversation a few months ago) is trying to get some of the remaining tapes released. And if you don't know about PERRO:
Paul Kantner, Grace Slick, Jorma Kaukonen, Jack Casady, Jerry Garcia, Phil Lesh, Bill Kreutzmann, John Cippolina, Carlos Santana, Mike Shrieve... the members of PERRO are vague and too numerous to list but these are some of them. Add Joni Mitchell and SNY and you have the backing musicians on this album. Which might have been disaster but in fact most of the PERRO stuff is extremely high quality and disciplined (the other 2 classic PERROs are Blows Against The Empire and Manhole). And Crosby's voice is on extraordinary form. This album is gorgeous, and I spent many an evening lying on my table (yeah - so what?) in a darkened room playing this over and over.