Blossom Toes - If Only For A Moment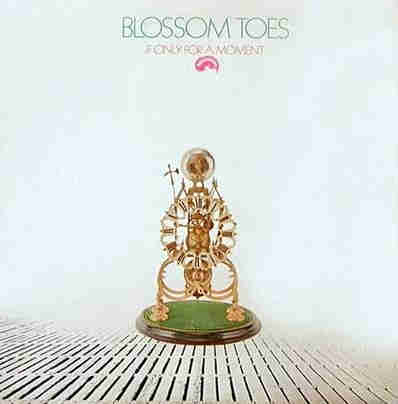 I was about 13 (so it was probably 1969 or maybe 1970) and we'd let a couple of rooms out to students. One of these - Jane, I think her name was - brought with her some records, and I borrowed some of these and taped them on my reel-to-reel machine. I don't remember all of them, but two of them at least went on to become firm favourites. Fairport Convention's "What We Did On Our Holidays" I'll deal with on a later week, but this week's album is Blossom Toes' 1969 classic (IMO) "If Only For A Moment".
IO4AM was the second album by Blossom Toes, a band signed to ex-Yardbirds manager Giorgio Gomelsky's Marmalade label. Stablemates there included Julie Driscoll, Brian Auger and the Trinity, John McLaughlin, and two songwriters (Graham Gouldman and Kevin Godley) who had written hits for The Hollies and Herman' Hermits and later formed 10CC.
Blossom Toes' first album, "We Are Ever So Clean" was a delightful slice of British pop psychedelia, but for their second album they went "heavy" and "progressive" (although those terms weren't really being used yet in that sense). A four-piece, with three lead singers and twin lead guitars, I like to think that they predated Wishbone Ash and their ilk.
The first track on the album, "Peace Loving Man", is a raucous anti-war bombast that hasn't really aged very well but the remainder of the album is subtle, imaginative and I still play it today. I finally managed to find it on CD as a Japanese import (don't you love it when a Japanese person tries to figure out what they're singing for a lyric sheet? And "easily operated, fuel-refined" becomes "easily unpourated, purified"?) so I've retired both my vinyl copies - it was a pretty rare LP at the best of times, and a few years later I bought a spare copy secondhand in case anything happened to my original.
They broke up after this album although they formed the nucleus of a band called "B B Blunder" who made one really rotten album ("Workers Playtime", with a cover parodying the Radio Times) and then split. Jim Cregan later joined Family, and then went on to play lead guitar for Linda Lewis (remember her?) and Rod Stewart. I think he's still with him. Brian Godding became a jazzer, playing with Centipede and various Keith Tippets outfits, and I don't know what happened to Brian Belshaw or Barry Reeves. Finally, they reformed briefly to provide the backing to one of the standout tracks on Julie Driscoll's "1969" album (that's it's title, not the year of release), "Break Out".
Further info at http://www.etsmtl.ca/pers/jboisono/shawnphillips/discog/blossomt.htm