Ten Years After - SSSSH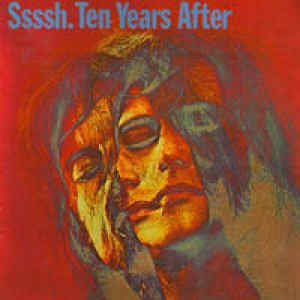 OK. So I had free tickets to the Albert Hall and I'd been turned on to *Heavy Rock" by Country Joe and the Fish (see previous). So following that revelation I was on the lookout for more heavy rock - and in '69 they didn't come much heavier than Alvin Lee and Ten Years After.
December 15, 1969 - I made my way to the Royal Albert Hall in London and sat in my "private box" alone. First up was Stone The Crows - pretty damn good ISTR - and then Blodwyn Pig, and then I went to the bar in the interval. I met Toby Eddington there - he was the son of actor Paul Eddington (Jerry Ledbetter in The Good Life), went to my school and was a couple of years older than me. He also seemed bloody groovy to me - his hair was long and now he was at the same gig as me! I lurched up to him in the bar and played the schoolfriend but he was having none of it and gave me a stare that contained more virtual saliva than ever landed on stage at a Pistols gig. Ah, lummy days.
Once again I "freaked out" in my box, shaking about and shouting "Wooh" a lot probably. This was even louder and heavier than the Country Joe gig a few weeks earlier!!!! I remember very little about the actual music (which is probably just as well) although they almost certainly played "Good Morning Little Schoolgirl" - a very controversial song at the time - and "The Stomp".
Christmas was coming, innocent feathered beings were getting fat, and I wanted heavy rock. I had my very own record player, last year I'd got the Beatles White Album for Christmas and this year I wanted SSSH. And I got it. And I played it LOUD and often - I even set up the chairs in my room in the same arrangement as the RAH box in a desperate attempt to recreate that extraordinary feeling. I don't think I ever did (a Dansette Regina is never going to sound like however many watts of amps and stacks Alvin lee and co had that night.
Anyway enuff waffle. I'm going on holiday soon so I'm not going to write any more.